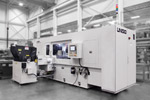 William Cook is a UK manufacturer of track running gear for armored vehicles. Their relentless drive to engineer, test, and produce the best products in this category has propelled them to their position as a global industry leader. William Cook is the main supplier of vehicle tracks to the British Army, in addition to having their products on the majority of armored fighting vehicles worldwide.

These vehicle tracks include a key component – track pins – which are designed to endure intense wear and tear from large, fast moving vehicles on uneven terrain. Components are produced to be strong, lightweight, and durable – at enormous production volumes. The material used is challenging to machine, and the combination of design and production demands leaves no room for compromise.
Track pins have a deep hole throughout the length of the part, which William Cook had previously been sending out to be gundrilled. A company-wide initiative to further modernize production provided plant systems engineer Brian Birkett with the responsibility of not only bringing the process in-house, but to also educate himself and his team on the foundations of deep hole gun drilling.
Confidence Begins with Education
Deep holes exist in the majority of industries, and many manufacturers such as William Cook encounter these applications, typically considered holes with a depth-to-diameter ratio of 20:1 or greater. When manufacturers are inexperienced with the process and equipment, the specific challenges can seem intimidating to go through alone. However, deep hole drilling uses modern tools, machines, and technology and follows proven methods. With the right partner and experience, in-sourcing the process and planning for long-term gundrilling success is easily manageable.
The team at William Cook initially brought their application to UNISIG for a machine solution, but according to Brian, UNISIG provided more than just a recommendation. UNISIG's technical team provided in-depth foundation information about the gundrilling process, available tooling, and the right machine to meet their needs.
Brian and UNISIG discussed a heavy duty, multi-spindle gundrilling machine, designed to maximize the production potential of high-feed indexable gundrilling tools. Following this initial proposal, the team visited the Wisconsin, USA facility to see the process and machines first hand, meet with the technical team to review the application in detail, and learn what goes into the precision of UNISIG machines.
"UNISIG's knowledge of how our application would benefit from indexable gundrilling was influential in our decision to go with them" he stated. "They clearly explained what we needed to know, addressed all the questions we had, and brought confidence in what ultimately was our solution."
Brian went on to explain that the combination of process, plus procedure, plus expertise contributed to their first-class experience with UNISIG, throughout the entire process. He praised the team for immediately being able to recognize and understand the demands of the application, and do a thorough job of presenting a solution – one which has lived up to expectations.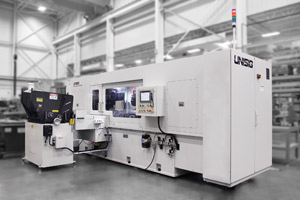 Intuitive and Powerful
The UNI-25HD machine at William Cook is currently running full production with three products, and plans to expand their part lineup. The machine is surpassing William Cook's expectations for required cycle time, with the high gundrill feed rates and multiple spindles, made possible with matched power and torque requirements on the machine.
Loading automation is seamlessly integrated to maintain a steady production pace with less operator effort. Brian believes that they have a solution that is perfectly aligned to their part and performance requirements.
"The machines are perfectly paced to keep up with production. The machines do exactly what was promised. UNISIG knows what they are talking about, and our expectations are exceeded."
Brian also praised the ease of operation, with UNISIG's standard PLC interface and a thorough training session, allowing the team to feel completely confident with deep hole drilling. The straightforward operation allows them to set up their program and let the machine do the work, while operators monitor the process and look for improvements. "It's such a benefit. It's so easy to learn", he commented.
Overall, the initial payback from the investment is expected to take place within 2 to 3 years, according to the team, and the long-term impact will be substantial.
Support Feels Close to Home
Having close support post-installation was another priority to William Cook. Partnering with an international supplier can sometimes create distance, but this was not the case with UNISIG. Technical support teams are quickly able to access the machine and the operating staff to diagnose and troubleshoot, even when remote.
The technical support from early on in the sales process, to responsiveness after installation has set UNISIG apart from others. "UNISIG's service team responds quickly to take care of any issues, just as if we were next door. Support feels close to home."
Brian's confidence with the UNISIG machine and partnership has influenced William Cook's long-term reliable production, and a modern solution that aligns with the future of their company.