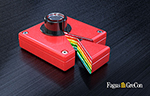 GreCon Limited is celebrating 28 years of business and commitment to the UK & Ireland market.
Established in April 1992, GreCon is located just outside of Newcastle upon Tyne and is a member of the Fagus-GreCon Group. With a wealth of experience as a global market leader, GreCon demonstrates a strong understanding of customer needs and provides turnkey solutions for a wide variety of industries including wood manufacturing, recycling, biomass, pharmaceutical, food, hygiene and more.
GreCon's fire protection technology protects industrial premises, process and people, detecting and extinguishing ignition sources, making workplaces safer and enabling uninterrupted production.
GreCon's measurement and inspection solutions help customers to improve product quality in their production processes, using proven German engineering to reduce material and energy costs, ultimately maximising operational efficiency.
Jonathan Hamill, Managing Director of GreCon Limited said, "Our parent company Fagus-GreCon brought to market the first industrial spark extinguishing system in 1973. Since that time, GreCon's product portfolio has significantly evolved, with continuous investment in R&D. Today customers all over the world rely on GreCon to add vital protection and to help them optimise their manufacturing process."
The company has seen growth after a positive year in 2019. "We achieved double-digit percentage growth last year despite a lot of industry uncertainty surrounding Brexit." Hamill stated, "This has placed us in an even better position to look after our customers. We invested in a new remote support solution, Satellite, which allows us to connect to customer systems remotely to provide a faster response and diagnostic service."
As part of the response to the current COVID-19 pandemic, the GreCon team have been focused on helping customers in critical industries, including travelling to their sites where needed. This week alone, these visits have been to customers in power generation, recycling, food and hygiene industries. Hamill continued, "I've thanked our team for their efforts, for staying at home when they've been asked to, coming to work when we need them and for finding new ways to adapt to this challenging situation."
This team has expanded. Hamill commented, "Tom Burniston re-joined the business in 2019 and is well known in the industry. As Head of Sales, Tom can rely on two recruits. Nathan Ashford joined recently as Technical Sales Manager – Nathan's engineering background will be highly relevant in this role. Beth Williamson joined during 2019 and was recently promoted to an inside sales role to look after business development and sales of critical spare parts."
Hamill concluded, "In these challenging times, we mark this anniversary by sending virtual slices of 'Detector cake'. We thank our customers for their continued loyalty and support. We also think of and thank all involved in the response to the current pandemic. Stay safe and if you believe we can help you, please get in touch."
T 0191 414 7200
marketing@grecon.co.uk
www.grecon.co.uk
www.twitter.com/greconltd
www.facebook.com/GreConLimited
www.linkedin.com/company/grecon-limited