Here at Sustainability Today, we like to recognise companies that go above and beyond, striving for brilliance and using innovative approaches to ensure continual growth with a focus on sustainability. This is why we are proud to announce that VINCI Facilities has been selected as our Facilities Management Company of the Year.

VINCI Facilities is committed to providing outstanding customer service, embracing innovation and collaboration to ensure they are, and remain, the benchmark against which their competitors are measured. Complementing and enhancing their Facilities Management and Refurbishment/Building activities, VINCI offer an extensive range of energy and water management services across a wide range of customers and business sectors.
VINCI Facilities is the trading name of VINCI Construction UK Limited, and is the £270 million UK facilities services organisation of the VINCI Group, a global facilities, concession and construction group. VINCI Construction UK traces its origins back to 1918, and over the past 100 years the addition of trusted names including Norwest Construction and Taylor Woodrow has widened the company's capabilities, enabling them to integrate developing technologies and lead the way in burgeoning new industries. VINCI Facilities Energy and Water Management experts provide innovative yet practical services and solutions, which reduce energy, carbon, water, cost, and risk for their customers.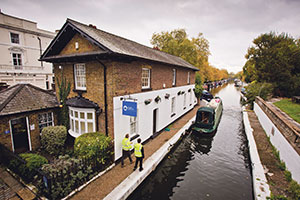 As specialists in the built environment, VINCI Facilities provides tailored solutions through both their Facilities Management and Building Solutions businesses. They are committed to delivering technical and organisational expertise, and provide their clients with a diverse range of facilities management, building maintenance, refurbishment, regeneration, and project management solutions designed to meet the challenges of modern organisations. They also offer a comprehensive range of Energy and Water Management services, which are tailored to their customer's needs, including an embedded Energy and Water Manager, utilities procurement & bill validation, bureau services, and alternative energy solutions along with renewables and battery storage.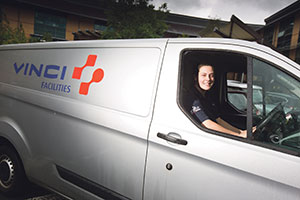 As a part of the wider VINCI group, they offer an unparalleled breadth and depth of technical expertise in the built environment, enabling them to deliver long-term sustainable value for their customers, shareholders, employees and partners, as well as society at large. They have successful partnerships with organisations of every size, from local authorities, schools, hospitals, social housing, and government departments, through to utilities, retail, manufacturing, rail and leisure.
VINCI Facilities is proud to be benchmarked annually as leaders in the Sustainable FM Index, and demonstrate an integrated approach to sustainability; from strategy to operation.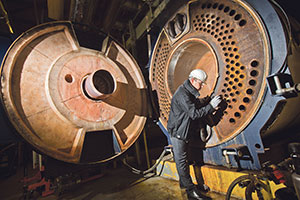 VINCI Facilities' Energy & Water Management business has grown out of a desire to continue to provide exceptional services to their customers and to mitigate the growing influence of utilities & carbon in a modern business. Their innovative services and solutions continue to reduce energy, carbon, water, cost and risk for our customers.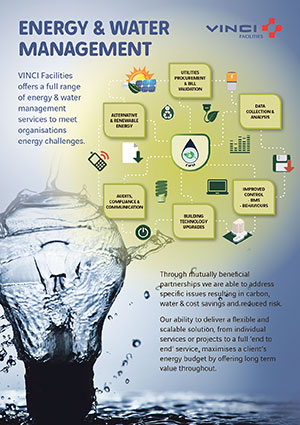 VINCI Facilities Energy and Water Management services and activities are underpinned by an in-house Utilities Bureau, based in Manchester. The Bureau takes data from a customer's portfolio to analyse utilities consumption, trends and alarms that may indicate performance issues, providing valuable information and insight. They can then take measures to rectify the problems, bringing about savings and avoiding excessive costs or, rectifying more acute issues, such as water leaks or exceeding electrical supply capacity. The Bureau also produces multiple levels of utilities reporting, including management summaries, PFI contractual performance, and operational reviews, turning raw data into information that can be acted upon to improve performance.
The Bureau is only one aspect of their service offering. A full range of services is available from strategy & direction through to 'on-the-ground' energy and water management, ensuring their customers have confidence that every requirement or challenge can be successfully met. Whether the requirement is a complex Investment Grade Audit, utilities procurement, operational support or simply advice on legislation, VINCI's team pride themselves on always being available to support their customers' needs and consistently delivering a quality service.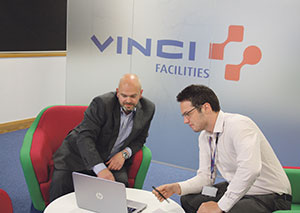 A topical subject for 2019 is the Energy Savings Opportunity Scheme (ESOS) as Phase 2 of the scheme is now underway and eligible organisations must comply with the scheme by 5th December 2019. Phase 1 of ESOS, which closed in 2014/15, was challenging partly due to a lack of Lead Assessors. This caused last-minute panic, failed assessments, compliance delays, and even fines from the Environment Agency. VINCI Facilities Energy and Water Management are working with multiple customers to ensure those problems don't reoccur for Phase 2 of ESOS.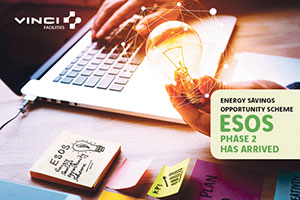 It is clear that the VINCI name symbolises the very best in sustainable innovation, creativity and technological mastery. Through their One Team ethos, VINCI is committed to developing an open, transparent, trust-based partnership with their customers, stakeholders, and supply chain partners. Their vision is to be regarded by all their stakeholders as the leading and trusted expert in the responsible management, operation and adaptation of the built environment, with a mission to create and maintain great places to live and work, listening to what their customers need and providing innovative solutions that add value, delivered by excellent people who care.
If you would like to find out more information about VINCI Facilities' excellent services, including Energy & Water Management, Energy Savings Opportunity Scheme (ESOS) or Utilities Bureau Services, use the contact details below.
Contact: Paul Lynch
T 0161 320 2900
info@vincifacilities.co.uk
ESOS@vincifacilities.com
www.vincifacilities.com