Within this issue of Tradex News we have selected Archiware GmbH as our Data Management Software Company of the Month.

Archiware GmbH is a leading German manufacturer of data management software. Established in 2001 in Munich, Germany, the company specialises in software for the backup, archive and cloning of data. With an expansive selection of distribution partners across Europe, the Americas and Asia, it has sold around 16,000 licenses worldwide.
"We provide software for data management, more specifically, software for the archive, backup and cloning of data – the A-B-C of data management. Independent from the OS and storage, we build automatic backups and archives to protect production data. With today´s threats from malware to cyberattacks, companies need all protection they can get. Our Archiware P5 Software Suite offers air gap with tape, automation and more for maximum protection," said Dr Marc Batschkus, Business Development Manager at Archiware.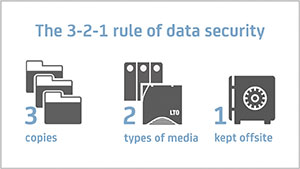 Archiware's software is extremely adaptable and provides solutions for data management for companies of all sizes, and it has gained a reputation for its success working within the media & entertainment industry. "Many of our customers are from the media and entertainment sector, postproduction, production & broadcast. Lots of them are independent production, meaning smaller to medium sized businesses. In bigger corporations Archiware P5 is often used for specific departments or local branches."
In terms of the software range, Archiware provides two data management solutions, the P5 Software Suite and its most recent development, the standalone product Pure for VMware backup.

The P5 Software Suite maintains a variety of capabilities, able to process and facilitate data management through archiving, backup and synchronisation. Archiware's P5 Software Suite displays a magnitude of benefits for its users. Through its easy to use application and accessible browser based user interface it reduces both setup and familiarisation time to a minimum. "Archiware P5 covers the A-B-C of data management in one solution with one interface," Marc noted. "This makes protecting data easier. Additionally, the Backup and Archive can use disk, tape and cloud storage."
Another example of the software's accessible capabilities is its platform options. Running on Windows, Mac, Linux, QNAP, Synology and Netgear, the P5 Software Suite makes transferring and operating between different platforms easy. Furthermore, due to P5's browser interface, the software is even more accessible; it can be used on a variety of platforms and be accessed from anywhere at any time. The more than 40 partner solutions show the power and flexibility of P5. A free 30 day trial is also available. "From time critical data with immediate availability needs, to long-term preservation in the Archive, Archiware P5 offers simple setup and powerful performance. The software is available in English, German, French and Japanese," Marc Batschkus pointed out.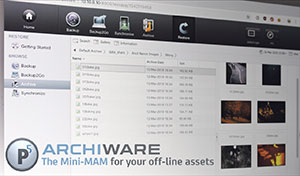 In terms of recent developments, the company has introduced a license bundle for smaller setups using its Archiware P5 Desktop Edition. "For 1,000£/€ P5 Backup and P5 Archive are included as full products for use with a single LTO tape drive." Marc continues, "This saves 2,300£/1,800€ compared to the single products. We want to encourage companies to start with a (small) Archive project now and not wait any longer to protect and catalogue their data. As soon as this happens, the benefits of having a 'Single Source of Truth' or a file memory of the company become evident. This Archive can grow into Petabytes later."
Archiware has also recently released version 2.0 of Archiware Pure VMware® Backup, with a free unlimited software licence. With this update, Archiware Pure is now certified to run on devices by leading NAS manufacturers Synology, QNAP and NETGEAR, and is available from their application stores for direct download and simple installation. Furthermore, the Archiware Pure website offers a Linux application and a Virtual Appliance. It can be installed in five minutes and the interface does not require in-depth technical knowledge, making it perfect for both small and large organisations.
Speaking with Marc about the future plans for Archiware, he told us that, "Right now we are building the groundwork to make data management for our customers even more flexible and even easier. Since they gather more and more data, management and protection needs to become easier to keep up with the added effort due to volume."
T +49 89 3190 8498
info@archiware.com
www.archiware.com