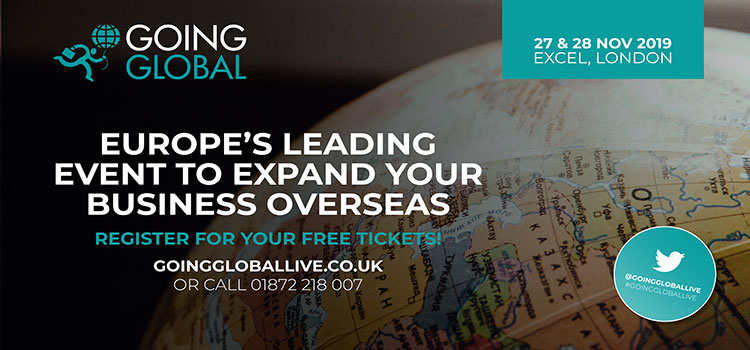 On the 27th & 28th of November, Europe's leading event for expanding business overseas will be returning to the London ExCeL.
Going Global Live, sponsored by American Express, is the leading exhibition dedicated to providing businesses with absolutely everything they need to expand internationally and trade overseas. From globally recognised brands through to world-class seminars hosted by leading professionals, this event will be the one stop shop for all brands moving into the global arena.
2019's edition of Going Global Live promises to be the most forward-thinking to date,  focusing on some of the most significant political developments in decades, including post-Brexit trade and how this will affect the way UK companies conduct business with trade partners across the globe. Annually attracting experts from around the world, Going Global Live enables a highly interactive learning experience for both exhibitors and visitors. This year's show will host professionals in all areas of international trade & export each leading their own informative seminar, providing visitors with second to none knowledge to utilise moving forward.
Going Global 2019 will answer every question a business has on international trade; provide unparalleled education and information on every trade agreement; and deliver an abundance of solutions and opportunities for UK businesses looking to go global. With exhibitors from across many sectors all coming together under one roof, it is hard to find a reason not to attend. Instead of spending hours searching for companies on the internet, speak to the people behind the solution face to face.
Going Global Live 2019 will be running alongside The Business Show and Foreign Direct Investment Expo, allowing for unrivalled networking opportunities across all of the events. Tickets to Going Global will grant access to the surrounding shows, opening up visitors to all the benefits of the surrounding events. Both of these shows will be providing their own valuable business masterclasses, so the opportunity to learn from international professionals has never been larger.
Meet experts from around the globe and access a whole new world of business at this years Going Global Live! Get your free tickets here!