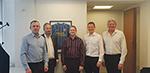 ThinCats, the leading fintech lender to mid-size SMEs, has facilitated a management buy-out for sq-m2 Limited, a leading fit-out and refurbishment specialist in London and the South East.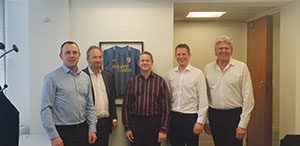 Founded in 2003, sq-m2 is a traditional build contractor, undertaking projects across three main types: commercial; refurbishments; and high-end residential works. Founded in 2003 by Steve Hart, the sq-m2 team is well regarded as 'buildability' experts with a range of high-profile clients, including British Land, BNP Paribas & Activision.
sq-m2 was directed to ThinCats by accountancy firm Moore Stephens. By working closely with sq-m2 management, ThinCats quickly tailored a bespoke MBO that would suit sq-m2's ambitious plans. This MBO marks an exciting proposition for the management team who intend to drive growth and expand their staff.
sq-m2 Founding Director, Steve Hart commented: "It was clear from the start that we wouldn't fit into the high street banks' rigid lending framework. So when Moore Stephens recommended ThinCats, we were immediately struck by their efficiency and ability to provide a unique funding solution for us. Working with ThinCats was an experience, rather than just a transaction. The buy-out has been a great success for all involved and represents an extremely exciting opportunity to build on a business which is highly regarded in the sector. We would like to thank both Moore Stephens and ThinCats who have been incredibly supportive throughout this deal."
Thincats Director, Kash Moghul added: "We are delighted to finalise our funding with sq-m2 and are excited to work with management on this next step in their journey. We are grateful for Ish Alg and Viqas Chohan at Moore Stephens who were an absolute pleasure to work with, showing great communication at all times and who were vital to getting the deal done."
Partner and Head of Owner Managed Businesses at Moore Stephens, Mark Lamb said: "We enjoy arranging deals like these, when the client and lender are so well matched. ThinCats were quick to follow through with their promises and delivered the best outcome for our client, going above and beyond the traditional lending remit."
T 01530 444040
loans@thincats.com
www.thincats.com